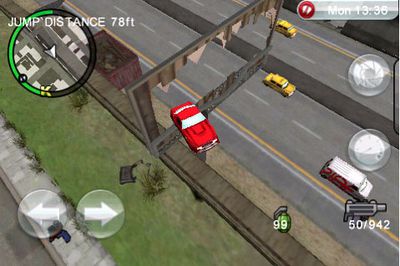 TouchArcade reports
that
Rockstar games
has released
Grand Theft Auto: Chinatown Wars
for the iPhone and iPod Touch this evening.
Chinatown Wars for the iPhone seems to lie somewhere in between the DS and PSP versions in regards to graphical quality, but as far as pure GTA gameplay, everything so far seems intact. (Complete with an awful lot of swearing.)
Grand Theft Auto is an incredibly popular gaming franchise that was originally released for PCs and has since been brought to console platforms including handheld devices such as the DS and PSP. The iPhone version represents the first iPhone game coming from Rockstar games.
TouchArcade has first impressions as well as this gameplay video:
App Store Link: Grand Theft Auto: Chinatown Wars, $9.99