Apple Progressing Toward Full Support for OpenGL 3.0 in Mac OS X 10.6.3
Hardmac today points to a netkas.org posting revealing that Apple has built nearly all of the required support for OpenGL 3.0 into Mac OS X 10.6.3, with 22 out of 23 extensions now supported. Most of the associated OpenGL 3.0-specific functions, however, are reportedly not yet supported.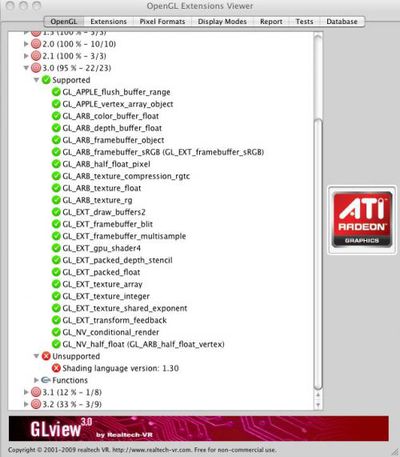 The public release of Mac OS X 10.6.2 supports only 15 of the 23 OpenGL 3.0 extensions, suggesting that Apple is moving rapidly toward full support for OpenGL 3.0, which would offer increased graphics performance for the company's Mac computers. The graphics cards used in current Mac models already support OpenGL 3.0, which was released in July 2008, but the required software support in Snow Leopard to take advantage of the specification has not yet appeared.