Apple Researching Technology to Provide Image Pixels With Touch Sensing Capabilities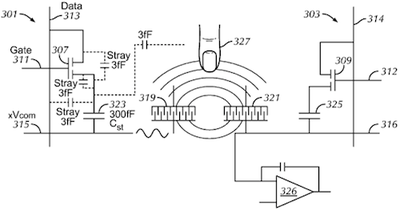 Patently Apple reports
on a newly-published
patent application
from Apple disclosing research on touchscreen technology involving the use of pixels with dual-function capacitive elements that are capable of both displaying images and registering touch input. The invention is designed to simplify the current process of overlaying traditional image pixels with transparent touch sensing materials, thereby allowing for thinner and brighter touchscreen displays.
This relates to displays including pixels with dual-function capacitive elements. Specifically, these dual-function capacitive elements form part of the display system that generates an image on the display, and also form part of a touch sensing system that senses touch events on or near the display. The capacitive elements can be, for example, capacitors in pixels of an LCD display that are configured to operate individually, each as a pixel storage capacitor, or electrode, of a pixel in the display system, and are also configured to operate collectively as elements of the touch sensing system. In this way, for example, a display with integrated touch sensing capability may be manufactured using fewer parts and/or processing steps, and the display itself may be thinner and brighter.
The highly-technical patent application offers a number of examples of the technology, and provides three examples of devices that could benefit from the invention: an iPhone-like mobile phone, an iPod-like media player, and a personal computer. Not shown in the application but obviously a potential beneficiary of the technology would be a tablet-style device such as that rumored to be forthcoming from Apple.



The patent application, which was filed on September 29th, 2008, is credited to several Apple inventors, including prominent engineers Steve Hotelling and John Zhong.