International Performance Seen Driving iPhone and iPod Touch Growth
AdMob has released its November 2009 Mobile Metrics Report, offering a featured look at the iPhone and iPod touch's international growth during 2009 as seen by data collected through its ad network. The data shows that, while the U.S. has seen strong growth with a doubling of the number of iPhone and iPod touch devices appearing on AdMob's network, international growth has been even more substantial. Led by Japan's nearly 350% increase and France and Australia claiming 250-300% growth, AdMob's network saw overall worldwide growth of 150% during the course of the year.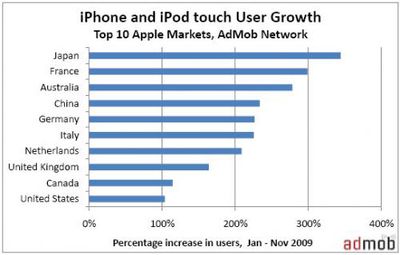 International growth has been a key theme for the iPhone in recent months, with a
recent report
showing the device claiming a 46% share of the smartphone market in Japan. The iPhone also had a
strong opening
in South Korea late last month, a fact captured in AdMob's data.

AdMob notes that Android has also seen strong growth so far this year, including a substantial rise in the U.S. over the past month led by the launch of the Motorola Droid from 20% of smartphone ad requests in October to 27% in November. The increase, however, has primarily come at the expense of smaller operating system, as Apple has managed to continue holding 55% of the U.S. ad request market while boosting its international share to 54% only a
month
after hitting the 50% milestone.