Apple Opens Up 'In App Purchasing' for Free iPhone Applications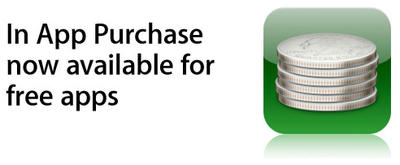 Apple has just sent out an e-mail to registered iPhone developers informing them that In App Purchasing, previously restricted to paid applications, is now also permitted in free applications. The change also permits developers to create a single version of an application to be sold for free with limited accessibility that can then be unlocked for full functionality via In App Purchases, eliminating the need for developers to create separate free "lite" versions of paid apps if they wish to offer such products.
In App Purchase is being rapidly adopted by developers in their paid apps. Now you can use In App Purchase in your free apps to sell content, subscriptions, and digital services.
You can also simplify your development by creating a single version of your app that uses In App Purchase to unlock additional functionality, eliminating the need to create Lite versions of your app. Using In App Purchase in your app can also help combat some of the problems of software piracy by allowing you to verify In App Purchases.
Visit the App Store Resource Center for more details about how you can add In App Purchases to your free apps.