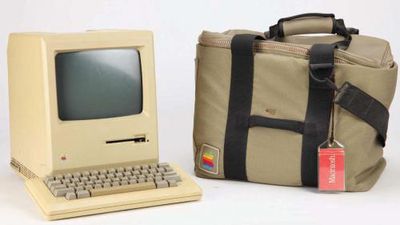 TUAW reports
that auction house
Profiles in History
will be auctioning off as part of a sale scheduled for next month a
Macintosh Plus
given by Apple to Star Trek creator Gene Roddenberry. The auction description states:
This is the very first Macintosh Plus 1Mb personal computer to come off the assembly line at Apple Computer in Fresno, California. It was presented to Gene Roddenberry as a gift by Apple Computer, Inc. and bears the serial number F4200NUM0001. The Macintosh Plus was a revelation among personal computers when it came on the market in 1986. With 1 Mb RAM (upgradeable to 4Mb), it supported the double-sided floppy disk format and was the first Mac with a SCSI port for fast data transfer to and from an external hard drive. The Macintosh was the first mass produced computer to utilize the mouse and the Macintosh Plus was the longest-lived Macintosh with production until 1990. It features the beige-colored case with 9 in. display, 3.5 in. floppy drive and includes the short keyboard, external floppy drive, mouse and Apple logo padded carrying case. An incredible artifact with a wonderful association between the visionary computer designer/manufacturer and legendary Star Trek creator. Accompanied by a signed letter of provenance from Gene Roddenberry's son, Rod.
As the report notes in an update, the machine was apparently originally built as an early production Macintosh 128K, but was upgraded to a Macintosh Plus by Apple. The computer is expected to fetch $800-$1200 at auction, less than half the original retail price of the machine.