OS X Snow Leopard 10A402 Brings Visual Tweaks and Other Enhancements
With the release of the OS X Snow Leopard 10A402 beta yesterday, users have been poring over the new version looking for changes. Among the most obvious changes have been a few visual tweaks, although several other enhancements have also been discovered.
- Contextual Dock Menus in List View: Apple has modified the theme of contextual menus within the Dock when using list view. The menus now utilize what some users are calling a "heads-up display" theme of white text on a charcoal background.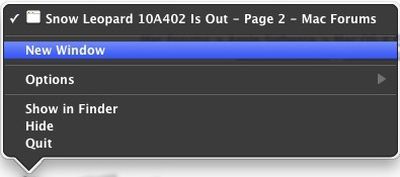 -
Finder Window Slider Button
: The new-in-Snow Leopard Finder window slider button for adjusting icon sizes has now taken on a grey color as opposed to the standard blue buttons found elsewhere.

-
Expos for Multiple Monitors Fixed
: Expos reportedly now functions correctly when using multiple monitors, with windows remaining on their respective monitors in Expos rather than all being collected on the primary monitor.
- System Responsiveness and Speed: Many users are reporting greater system responsiveness and significant increases in speed. Startup and shutdown times appear to be significantly improved.
- Third-Party Preference Panes: Third-party System Preferences panes reportedly are now functional.
- Battery Life for Notebooks: A number of users have reported their battery life indicators estimating significantly longer run times than under previous Snow Leopard builds. This has not, however, been confirmed in actual battery life tests yet.
- New QuickTime Version: QuickTime X has been upgraded to Build 10.0 (42). There is no word on any visible changes in the new build.