Tapbots, creator of the popular unit conversion iPhone app Convertbot, has published data showing the rate of adoption of iPhone OS 3.0 by its users. Notably, as of June 22nd, 75% of users running the latest version of Convertbot were using iPhone OS 3.0.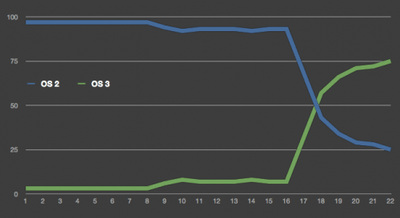 Demonstrating the effect of the $9.95 upgrade fee for the iPod touch on adoption rates, only just over 50% of iPod touch users were running iPhone OS 3.0, while nearly 80% of iPhone users were doing so.
While we caution readers about jumping to too many conclusions based on this sample of a single version of a single app without differentiating between new and upgrading users of the application, the data provides an interesting glimpse at upgrade patterns during the period leading up to and in the few days after the public launch of iPhone OS 3.0.