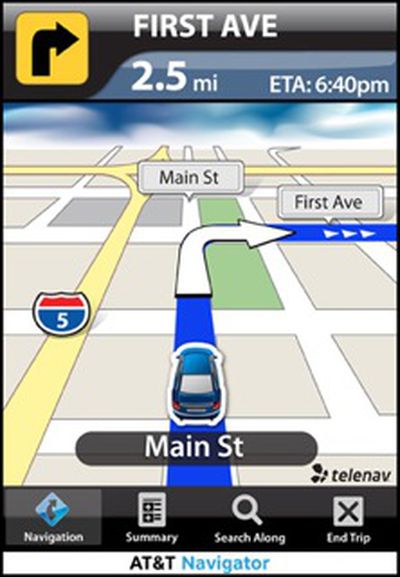 Yesterday, we profiled several turn-by-turn GPS applications that have appeared in the App Store over the past few days. Today sees the addition of a new GPS app for U.S. customers, this time from AT&T. AT&T Navigator [App Store, Free plus $9.99/month subscription] offers full-featured turn-by-turn GPS navigation with traffic data, automatic map updates, and advanced search functions. Features include:
- Voice-guided and 3D onscreen GPS navigation keeps your hands on the wheel and eyes on the road
- Automatic rerouting will get you there even if you miss a turn
- Regular map updates are automatic and included so you never have to purchase updates.
- Real-time traffic updates and one click rerouting saves you time on your daily commute
- Searching for gas by price saves you money at the pump
- Enter an address from your iPhone or from the convenience of your computer before leaving home. Search AT&T Navigator for the closest coffee house, ATM or Wi-Fi hotspot along with ratings from a listing of over 10 million business listings.
AT&T Navigator is unique in that, rather than utilizing in-app purchasing via the iTunes Store, the subscription is automatically added to the user's monthly AT&T wireless bill. The technique sidesteps Apple's policy of taking a 30% cut of sales taken through the in-app purchasing method. While users may appreciate that the monthly charge is included on their AT&T bill, they should also be aware that simply deleting the application does not cancel the monthly subscription. Users will need to contact AT&T directly in order to end their subscription to AT&T Navigator.