Unreleased iPhone2,1 Icon Reveals No Major Physical Changes?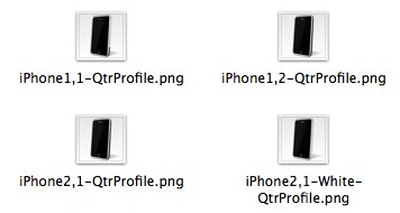 A
MacTalk.com.au forum thread
reveals that the unreleased "iPhone2,1" model that has been
previously referenced
actually includes its own icon within the iPhone 3.0 SDK. The icon, however, appears identical to the iPhone1,2 model which represents the current iPhone 3G.
While some may dismiss the fact that very few details can seen in such a small icon, the iPhone1,1 (1st Generation) icon does appear distinct and physically accurate in the images. Readers may also remember that the iPhone 3G's icon was also spotted before its release with only slight differences. In retrospect, an argument can be made that it was an accurate (though low resolution) rendition of the iPhone 3G.
While not a groundbreaking finding, it is consistent with rumors that next generation iPhone would keep a similar form factor to the current model.