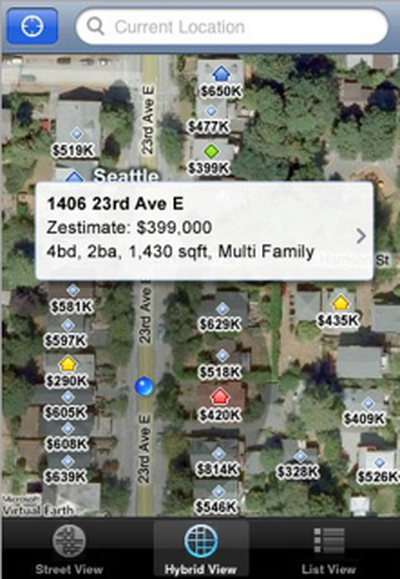 Zillow, the popular real estate information and valuation site, has released a dedicated iPhone application, Zillow Real Estate [App Store, Free]. Zillow's database covers 88 million U.S homes (95% of homes in the country) and provides home details, transaction histories, and estimated home values known as "Zestimates."
In addition, Zillow provides for-sale home listings with details, photos and contact info, currently listing approximately 3.4 million available homes. Zillow's "Make Me Move" feature allows owners to select a price at which they would consider selling their house without having to formally list the property for sale.
Zillow Real Estate takes advantage of the iPhone's GPS capabilities to display homes near the user's location, following the user as they move. A search feature is also available to locate homes by address, neighborhood, ZIP code, or city.
- GPS technology follows you - no need to enter an address
- See Zestimates, homes for sale, recently sold, and Make Me Move homes all on one screen.
- Perfect research companion for buyers or real estate junkies.
- Drive by your "dream homes" and see what they're worth.
- Or, custom search homes by address, neighborhood, or ZIP.
A video preview of Zillow Real Estate is also available.