2 Days Left for Latest MacHeist Bundle: 14 Mac Apps for $39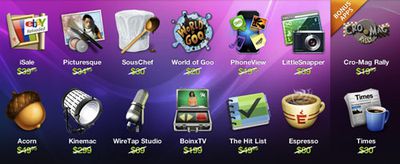 A few times a year, MacRumors partners with
MacHeist
to promote their Mac application bundle deal. Their latest bundle delivers at least 12 Mac applications for
$39
(a $981 value if all purchased separately) including:
- iSale ($39.95) - time-saving tools to sell your stuff on eBay
- Picturesque ($34.95) - touch up your photos with an easy to use interface
- SousChef ($30) - cooking assistant with over 12,000 recipes, ingredient substitutions, and more...
- World of Goo ($20) - award winning and imaginative physics-based puzzle game
- PhoneView ($19.95) - access your iPhone's Notes, SMS logs, call history and more.
- LittleSnapper ($39) - capture, edit, organize and share images on your computer
- Acorn ($49.95) - photo editor "for the rest of us" with GPU acceleration
- Kinemac ($299) - generate professional real time 3D animations
- WireTap Studio ($69) - record, organize, edit and share sound from any application on your Mac
- BoinxTV ($199) - "TV studio in a box" for recording podcasts, seminars, other events
- Cro-Mag Rally ($19.95) - Mac version of the popular prehistoric kart racer from Pangea
- Times ($30) - read your RSS feeds in a visual newspaper format.
Now unlocked:
- The Hit List ($49.95) - simple/powerful task manager
- Espresso ($80) - web editor to code, preview and publish sites
This $39 bundle sale ends on Tuesday night (April 7th) and the final two "locked" applications are projected to be unlocked before that time. Unlocked applications become available to all purchasers of the bundle no matter when you purchased it. Update: All applications unlocked, so all 14 apps available for the $39.
MacRumors is a promotional partner with MacHeist. Bundle sales through these links benefit MacRumors financially, and provide a way for readers to directly support this site.