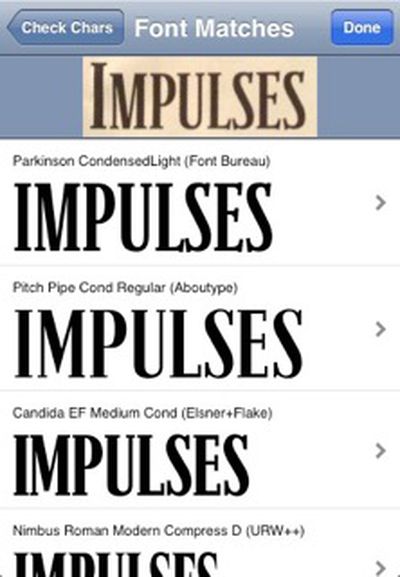 WhatTheFont is a popular Web-based tool to aid in identifying unknown fonts. Users can upload screenshots of text in an unknown font, and the automated tool, with a bit of input from the user to help verify that its interpretations of the characters are correct, provides a list of fonts that most closely match that shown in the image.
MyFonts has now released a free iPhone version of WhatTheFont [App Store], allowing users to take a photo directly from the app using the iPhone's built-in camera and upload it to the WhatTheFont database for identification. iPod touch users are limited to the submission of images saved from other applications such as Safari and Mail.
* Snap a photo right within the app
* Choose saved photos from the Photo Library
* In-phone image processing optimizes upload for speed and accuracy
* View font details in Safari or e-mail a link to yourself
WhatTheFont requires an Internet connection via Wi-Fi, 3G or EDGE in order to analyze the image and access the font database.