HP MediaSmart Servers Gain Mac Compatibility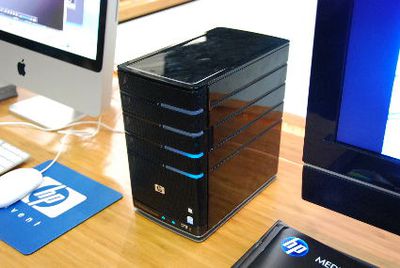 One of the more interesting products on display at the Macworld Expo is the HP MediaSmart Server EX485/EX487. The new server, which was the recipient of a Best of Show award, provides a home server solution for cross-platform environments.
The server contains an Intel Celeron 2.0 GHz processor, 2 GB of RAM and four hard drive bays, with additional expansion possible via one eSATA and four USB ports. Although a Windows PC is required for the initial setup (Boot Camp and virtualization software are officially unsupported for setup), once configured it is compatible with Windows, Mac, and Linux. Time Machine is supported for backups of networked Macs, while Windows machines are backed up using Windows Home Server. Local file and media sharing is available via Finder, while remote access to files stored on the server is available via Internet browser.
It also includes an iTunes server that centralizes iTunes music libraries for access by any networked Mac or PC with iTunes, as well as tools for simplifying uploads to photo-sharing sites such as Facebook, Picasa, and Snapfish. Online backup via Amazon S3 is also available for additional data protection.
The MediaSmart Server is offered in two configurations, the EX485 with one 750 GB hard drive for $599 and the EX487 with two 750 GB drives for $749.