Apple Seeds Mac OS X 10.5.6 (9G21) to Developers
Apple has started developer seeding and testing of the next update to their Mac OS X operating system. Mac OS X 10.5.6 (9G21) was seeded to developers this morning and offers the usual laundry list of bug fixes and improvements across a variety of services.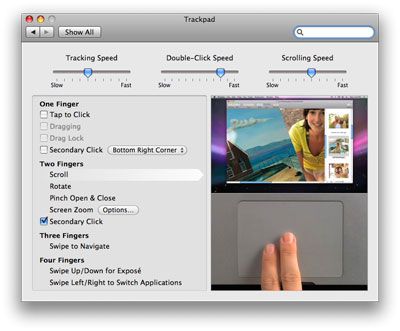 Trackpad Preferences on new MacBook Pro (10.5.5)
The new update appears to move notebook trackpad preferences into its own preference pane in the control panel, just like on new laptops. However, the update does not bring the newly-introduced 4-finger multi-touch gestures to existing Apple multi-touch laptops.
There are also no hints or indications of Blu-ray support. While there were some early rumors that 10.5.6 might incorporate Blu-Ray support, recent comments by Apple executives indicate support is not coming soon.