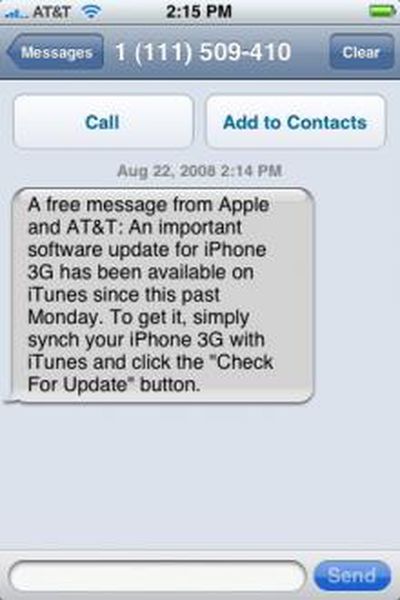 Yesterday, an MSNBC writer pleaded to Apple to send a text message to its users notifying them of the new Firmware update.
Word-of-mouth is often how dismal news spreads. But when you have more than 1 million people to whom the information needs to get to, worth-of-mouth doesnt cut it. Web message boards dont cut it. Not commenting doesnt cut it.
And if the news involves iPhone problems, Apple and AT&T, wouldnt a text message from those two companies to the million-plus users of the new iPhone make sense? Its certainly easy enough for them to do. Its not like they dont know customers phone numbers.
We're not sure if that advice reached Apple, but AT&T and Apple did indeed start sending out text messages to its users asking them to upgrade to the new iPhone 2.0.2 firmware.
"A free message from Apple and AT&T: An important software update for iPhone 3G has been available on iTunes since this past Monday. To get it, simply synch your iPhone 3G with iTunes and click the "Check For Update" button."
Apple has said that this update should address some of the 3G connectivity problems that have been reported.