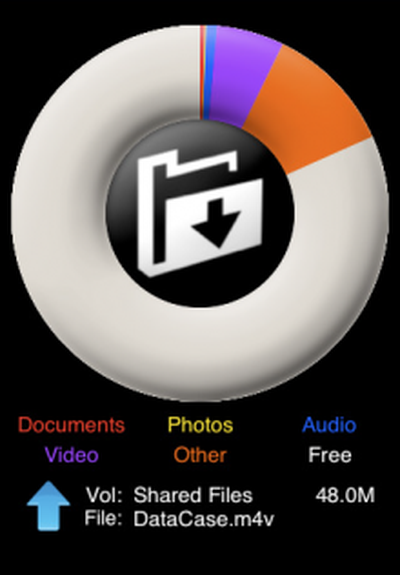 Users waiting for Apple to enable the iPhone to provide easy portable file storage can now use DataCase [$6.99, App Store] by Veiosoft. What really takes the cake, however, is that DataCase also facilitates viewing of many common files (Office, PDF, text, images, audio, video, and html) on the iPhone itself for on-the-go access.
I have found the application very easy to use. Upon launching DataCase I immediately noticed my iPhone in my Finder sidebar. The connection is created over WiFi, so it's pretty quick and there is no need to lug around your dock cable.
DataCase not only allows you to store files; it also allows you to view them on the go. I tested an Office document and an image and both worked as-advertised. Multi-touch and accelerometer-based orientation work as you'd expect as well.
While the security features are a pretty good start, they could still use a little improvement. The single most important feature included is confirming incoming connections, essentially preventing snooping of your files by other users on your network. Volumes can be set as hidden, browsable, readable, and/or writable, however owner/group or access control list style permissions are not supported.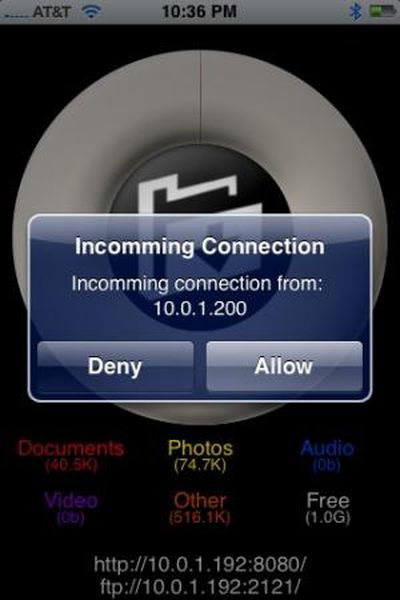 DataCase allows you to confirm incoming connections
DataCase
is available for $6.99 from the
App Store
and works with both the iPhone and iPod touch. Youtube demonstrations are available on
Veiosoft's website
for both Mac and Windows. Mac demo is included here:
App store link: Datacase