AT&T Providing Free Wi-Fi Access to iPhone Users [Updated]
A couple of readers have reported that AT&T hotspots are now offering free Wi-Fi access to iPhone users. Barnes and Noble, Starbucks and presumably AT&T's 71,000 other Wi-fi hotspot locations are now offering iPhone users a custom portal to access free Wi-Fi. A special iPhone formatted page asks for your mobile phone number. Once entered, you can access the Wi-Fi access for free.
MacRumors has been able to confirm this finding at a local Barnes and Noble. Blurry photo provided: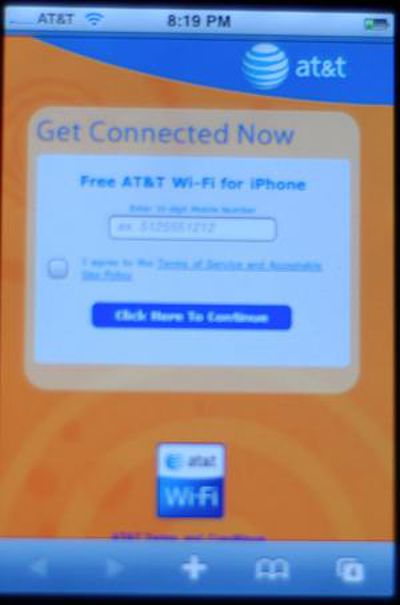 AT&T recently
partnered with Starbucks
(displacing T-Mobile) to provide Wi-Fi access to Starbucks' 7000 stores nationwide. This partnership allowed existing AT&T broadband customers free access and AT&T promised that it would "soon extend the benefits of Wi-Fi at Starbucks to its wireless customers", but no official announcement has yet been made.
A list of AT&T's 71,000 hotspots can be found on AT&T's site, including Starbucks, Barnes & Noble, Airports, and McDonald's locations.
Update: MacRumors reader ntrigue confirms that AT&T's system is based on the iPhone's User Agent, which can easily be faked on laptops. He successfully accessed the free iPhone Wifi through his laptop (and a valid iPhone phone number)"