Mac OS X 10.5.2: Optional Translucent Menubar, DVD/CD Sharing
Some screenshots of the new features found in the Mac OS X 10.5.2 seed have been
detailed by BabyGotMac.com
. Amongst the new features:
- Transparency in the menu bar is now optional and can be set in Desktop Preferences:

- DVD/CD sharing preferences, allowing you to share your optical drive with the upcoming MacBook Air (or another Mac).
- List view in Stacks as
previously mentioned
: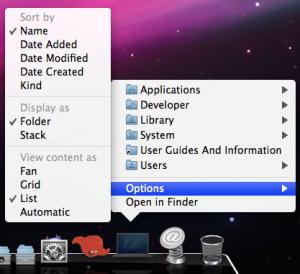 - One screenshot claims that network drives are now enabled with Time Machine. We are looking into this further.
- Meanwhile, we've received word that Apple has included a new Time Machine menubar pulldown that gives you the status of TimeMachine and allows you to initiate a backup, open preferences and see the time of the last backup
MacScoop provides
an itemized list of all the fixes and changes in the 10.5.2 seed as described in the seed notes, however, Apple does not detail every change.