Mac OS X Leopard 9A581's Dock Visual Tweaks [Updated]
Apple's Gold Master (Retail) version of Mac OS X 10.5 Leopard has at least one visual tweak over the developer seeds. It appears Apple has listened to user feedback about the visual inconsistency with dock items appearing on a 3d shelf on the Left and Right side of the screen (
old screenshot
).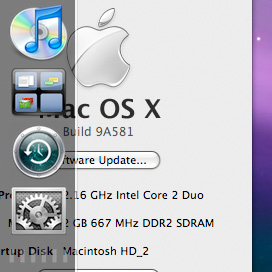 Click for larger
Apple has updated the Dock so that it has a 2-Dimensional appearance when it resides on the side of the screen. When residing on the bottom of the screen, the Dock retains the
3d shelf
appearance.
Mac OS X 10.5 Leopard will officially launch on October 26th at 6 p.m. If you haven't already
ordered online ($20 off)
, MacRumors readers are
organizing meetups
in their local regions.
Update
: Apparently the same simple style can be used for the dock when it is on the bottom:
screenshot