Mac OS X 10.5 Leopard Finder
AppleInsider looks at the upcoming Mac OS X 10.5 Leopard Finder and also provides some historical perspective. Overall the Leopard Finder is described as "a clean refinement of what we already have in Tiger" with a number of subtle and useful updates.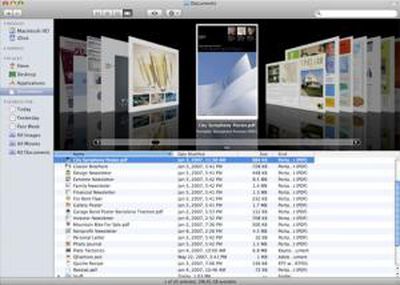 Meanwhile, Leopard's Cover Flow is described as "more useful than one might imagine" since Leopard will now generate a live preview icon of the actual contents of any file.
If you're looking through a directory of images, Cover Flow makes a lot of sense. However, it's also useful for scanning through a huge pile of HTML files with unintelligible names; Cover Flow very rapidly renders each page so you can visually peruse the directory contents looking for the page you need.
Other features described include Quick Look, Spotlight Search, and Finder window.