I was padding around the house barefoot and half-conscious getting ready to go to work. My dad came into the room, shaking a bundle of papers.
"Katie! Why is your phone bill Fifty Three Pages?!"
--"Huh? What are you talking about? Give me my mail! Stop opening my mail!"
"I thought it was our home phone, but still... 53 pages?!"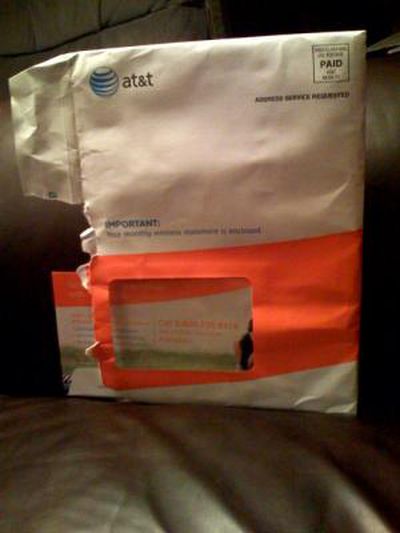 (forgive the size and quality. I took it with the iPhone because my camera was either stolen from me or I lost it.)
While it's no
300-page bill,
53 pages is still a bit obscene! Only a page and a half of it are phone calls (I don't make many calls. I used 110 minutes this month.), 7 pages are texting, and the remaining pages are all data transfers. That's 38 pages of data. Imagine how bad it'd be if I had a job where I could sit on my butt and goof off on the iPhone!
I can completely understand itemizing each text message, of course (ignore that 353 of them were to/from the same person), but itemizing each time I hop on EDGE? 77 megabytes of transfer turns into 2531 items on my bill. What?
Hopefully AT&T will clean this up with future bills. My parents are of the mind that you need a paper bill every month, even if you can view and pay it online (they don't trust electronics much. I keep telling them that cameras don't steal your soul, but) so I can't really switch to all electronic billing. Data could be on one page and say something like "30 megs on Sunday, 20 megs on Monday" etc. But I'm not AT&T, I can't control them.