Mac OS X Server Free with Mac Pro?
With the release of the new Mac Pro, it appears that Apple UK Store is offering Mac OS X 10.4 Server (10-Client) for free with the purchase of a new Mac Pro.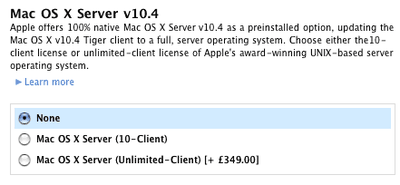 The
Mac OS X Server
software typically costs 349 for the 10-Client version at the UK Store, while the Unlimited-Client typically costs 699. On the Mac Pro order form, however, the OS X Server 10-Client is a free upgrade, with the Unlimited Client discounted to 349.
In fact, this discounted option is reflected in all of the European stores, but U.S/Canada customers still have to pay full retail price.
Since there has been no official announcement of this "deal", it remains possible this may be an error on Apple's website... so readers should order at their own risk.