Apple Releases 'Car Keys Tests' App for Licensed MFi Developers
Apple has released a testing app for vehicle manufacturers who are working on integrating its digital Car Keys software (via 9to5Mac).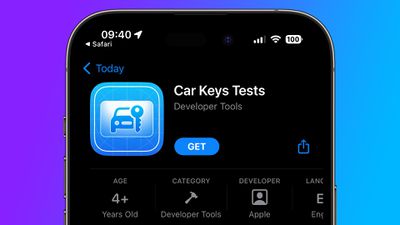 Apple's digital car key feature allows users to unlock and start a compatible vehicle by bringing an iPhone or Apple Watch near the driver-side door. The car keys are stored in the Wallet app, just like a credit card. The feature is currently limited to select BMW, Kia, and Genesis vehicles.
Called "Car Keys Tests," the new app allows licensed MFi developers to test and validate their own integration of the digital car keys technology, which Apple announced in July 2022.
Apple describes the developer tool in the following way:

For use by MFi Licensees only. Use the Car Keys Tests app to test and validate connection, performance, and other key requirements for the certification process of the vehicles you develop that incorporate Apple digital car keys technology.
"Car Keys Tests" isn't listed on the App Store, but there is a direct link to view and download the app. However, only developers with MFi licenses will be able to get past the login screen.