Apple's Discontinued Beats Pill+ Speaker Returning With Limited-Edition Model
While the Beats Pill+ was discontinued a few months ago, the portable Bluetooth speaker is making a comeback with a new limited-edition model.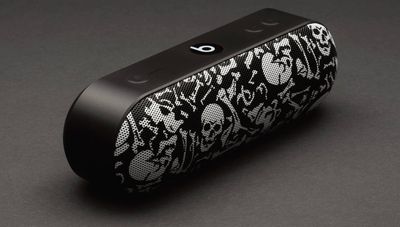 Beats has collaborated with fashion brand Stüssy on a limited-edition Beats Pill+ speaker featuring a skull-and-bones design and the Stüssy logo. An engraved message on the top of the speaker says "the only good system is a sound system."
The limited-edition model appears to have the same overall design as the original Beats Pill+ released in 2015, based on images shared on Stüssy's website.


The speaker will be available worldwide on Stüssy's website for a limited time starting Friday, March 4 at 10 a.m. Pacific Time. Pricing is set at $185 in the United States, $255 in Canada, £185 in the United Kingdom, €205 in the Netherlands, ₩230,000 in Korea, and ¥21,500 in Japan, according to an emailed announcement from Beats.