Apple's New iPhone XR Has Been the Most Popular and Best Selling iPhone Since October Launch
Apple's iPhone XR, released in late October, has been outselling the iPhone XS and XS Max every day since it first launched, Apple's VP of product marketing Greg Joswiak told CNET in an interview published today.
Priced starting at $749, a more affordable price tag than the $999 iPhone XS or $1,099 iPhone XS Max, the iPhone XR was Apple's "most popular iPhone each and every day" since it became available for purchase.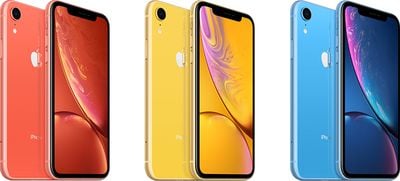 Though the iPhone XR has been outselling Apple's more expensive iPhones, rumors have suggested that it is not selling quite as well as Apple expected. Apple has reportedly cut both iPhone XS and iPhone XR orders following lower-than-expected demand. Apple is said to have slashed iPhone XR production by up to a third.
Joswiak did not comment on reports of iPhone XR production cuts, and instead reiterated his statement that the device is Apple's best selling iPhone at the current point in time.
In addition to providing details on iPhone XR sales, Joswiak said that Apple will again promote World AIDS Day on Saturday, December 1. $1 of every Apple Pay purchase made at an Apple Store, the Apple Store app, or through the Apple website from December 1 to December 7 will be donated.
"Not only does each purchase bring us closer to an AIDS-free generation, but every dollar provides five days of life-saving medicine," said Joswiak.
Apple also plans to turn the Apple logos at 125 of its stores red, as it has done in past years, and at 400 additional stores, red decals will be placed over Apple logos. Apple does not plan to offer any special promotions in the App Store this year.
Apple has long supported AIDS research through its RED partnership, which sees it offering (PRODUCT)RED themed devices and donating a portion of the purchase price. Apple in October alongside other iPhone XR models launched a (PRODUCT)RED version of the iPhone XR, which Joswiak said is "incredibly" important to Apple. "It's hard to think of a higher calling than selling products that save people's lives," he said.