For this week's giveaway, we've once again teamed up with Fuse to offer MacRumors readers a chance to win a Side Winder cable wrangler, designed to let you quickly and easily wind up your MacBook Air or MacBook Pro's charger cord.
The reel-style construction of the Side Winder keeps your power adapter, cord, and attached extension cable in a neat, compact package with zero tangles and no hassle. It's perfect for use at home or work and it's great for when you need to travel because it makes it so quick to pack up.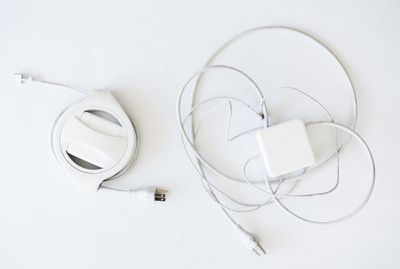 When traveling with a traditional Power Adapter and cable setup in a bag or backpack, winding the cord and the extension cable is an exercise in futility because it constantly comes unwrapped, leading to a messy, knotted tangle of cable. That cable tangle is the problem the Side Winder solves.


Side Winder works by enclosing the Power Adapter of your MacBook with a reel that holds the cable. When you need to wind extra cable, a simple twist of the top piece pulls it in. When more cable is needed while the MacBook is in use, you can pull out as much cable as you need to reach a power outlet.


Fuse says that it takes less than six seconds to fully wind a cable using the Side Winder, and the design of the device provides protection against cable damage and fraying by preventing stress at weak points.


Side Winder is compatible with all 45W, 60W, 61W, 85W, and 87W MacBook Pro and Air chargers, with both MagSafe 1 and 2 and USB-C versions available. The MagSafe versions are available for $29.99, while the USB-C version is $33.99. The USB-C model includes a USB-C cord, but neither model includes a power adapter or extension cable.


In addition to offering Side Winders to MacRumors readers in our giveaway, Fuse is also providing a 20 percent discount on all Side Winder purchases. To buy one at a discount, just use this link.
We have 20 Side Winders to give away to MacRumors readers. To enter to win our giveaway, use the Rafflecopter widget below and enter an email address. Email addresses will be used solely for contact purposes to reach the winners and send the prizes. You can earn additional entries by subscribing to our weekly newsletter, subscribing to our YouTube channel, following us on Twitter, following us on Instagram, or visiting the MacRumors Facebook page.
Due to the complexities of international laws regarding giveaways, only U.S. residents who are 18 years or older and Canadian residents (excluding Quebec) who have reached the age of majority in their province or territory are eligible to enter. To offer feedback or get more information on the giveaway restrictions, please refer to our Site Feedback section, as that is where discussion of the rules will be redirected.