Apple Stores Experiencing 'Global' Issue With iPhone and Apple Watch Reservation Pickups
We're hearing from a number of readers over the past hour or so that Apple's retail stores are having problems completing in-store reservation pickups for the new iPhone and Apple Watch models. Multiple customers have been told there is a "global" issue affecting Apple's systems and we're hearing there are some long lines building up as customers wait for the issues to be resolved.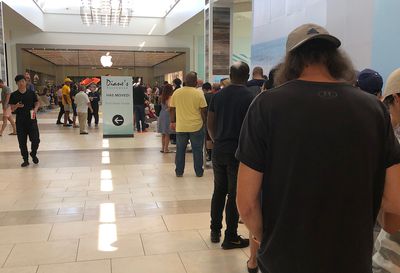 Pickup line at Manhattan Village store in Manhattan Beach, California
Some customers have reportedly been told to cancel their existing reservations and make walk-in purchases from available stock, while others are simply being told to wait things out while staff members discuss how to handle the situation.
We'll update this post if we hear more about the situation, but if you have an upcoming pickup window, you might want to be prepared for some delays.
Update: Apple's systems appear to be coming back online and reservation pickups are now being processed. There is, however, still a backlog of customers to work through.