DirecTV Now Launches Cloud DVR With 20 Hours of Storage at No Extra Monthly Cost
DirecTV Now is today officially launching its "True Cloud DVR" for all subscribers of the cord-cutting service, while still retaining that the DVR is in beta at this point. The new DVR feature supports 20 hours of recorded shows and movies on DirecTV Now across devices -- including Apple TV and iPhone/iPad -- at no additional cost. When users record a show on the DVR they will be able to skip through commercials, but DirecTV Now noted that the DVR is "not available for select channels."
Recordings will be deleted after 30 days, and if a user is nearing the 20 hour storage limit the app will notify them. If the limit is then exceeded, then the first program listed will make room for the newest one. The DVR lets users record an entire series or just one episode, and "fast forward and rewind at will."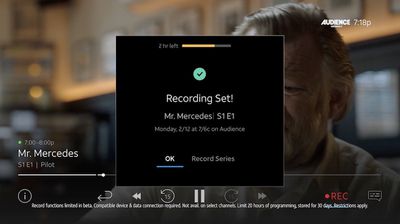 Notably, DirecTV Now says that it's working on debuting "more capacity options" later in the summer so that users can keep more on their DVR lists for longer periods of time. One of these tiers will be a plan that can to record up to 100 hours and store shows for up to 90 days, for an extra $10 per month.
The company is also revamping the "Watchlist" to become "Bookmarks" so that users can pin shows to easily return to later. In general, it said there will be improved navigation, search options, and more UI overhauls that put a user's favorite programs front and center in the app. The guide itself has been revamped to show more information, and viewers can browse for something new to watch while still viewing their current stream.
Additionally, the service is expanding its on demand content of 25,000 titles with more capacity, so that new episodes on select channels will be available on-demand after they air live. The update also brings the option to add a third stream to an account for $5 extra per month, letting three people stream on one account simultaneously, and improves local channel streaming availability for users traveling. Check out more details about the update below:

Travel with your Locals – granted the local is also available in the market you're traveling to, you can now stream your local channels when you travel.
Less Searching, More Streaming – find favorite shows and movies faster with customizable search.
Entertainment, Uninterrupted – you'll never miss a beat with our new layout, because your stream will be playing in the background, or on a pop-up.
DirecTV Now has apps on iPhone, iPad, and Apple TV, and for Apple's set-top box the company still has the best price available online for the 32GB Apple TV 4K. Under the offer, you can pre-pay for three months of DirecTV Now at $105 and get the Apple TV 4K at no extra cost. Head over to DirecTV Now for more information on both the Apple TV deal and the new DVR update, which should begin appearing across iOS, tvOS, and Chromecast devices as the day progresses.