Samsung's Galaxy S9 Called 'Worthy Rival' to iPhone X as Reviews Hit
Galaxy S9 and S9+ reviews are officially out, and they're mostly positive. The consensus is that Samsung's latest smartphones are iterative but improved versions of its already-impressive Galaxy S8 devices.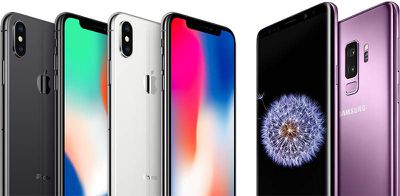 We've linked a handful of the reviews below for anyone interested, but since we're an Apple-centric website, we've chose to specifically highlight some comparisons made to Apple and the iPhone X in particular.

Highlights
The Wall Street Journal's David Pierce believes that Samsung and the Galaxy S9 once again "set the bar for smartphone design":
Nobody makes better-looking phones than Samsung. Last year's Galaxy S8 was a particular gem of a device, glassy and stark with that "infinity display" stretching almost entirely across the front. It was thoughtfully designed on a level only Apple used to be able to achieve. As a result, it flew off shelves.

So why change anything? Nine versions in, Samsung feels it has landed on the right design for its Galaxy S phones. A company spokeswoman compared Samsung's approach to the way a luxury car maker might build new models: Nip and tuck, but dont change what people already love.
CNBC's Todd Haselton described the Galaxy S9 as "a worthy rival to the iPhone X" in his review. However, he said Samsung still lacks a Galaxy S smartphone that "pushes the boundaries a bit more" like the iPhone X.
I don't normally compare Android phones with the iPhone because the product ecosystems are so different […] There's no question the Galaxy S9 is a worthy Android rival to the iPhone X, with a great screen, camera, wireless charging and more. If you're buying an Android phone and don't like Apple products for whatever reason, this is a safe bet.
This brings up a larger point: Samsung's Galaxy S9 feels a lot like the move from the iPhone 7 to the iPhone 8. It's an upgrade, but not really a huge bump in a lot of ways. Samsung needs something in the Galaxy S range that pushes the boundaries a bit more, like the iPhone X does in Apple's lineup.
Samsung finally included stereo speakers on the Galaxy S9, and Haselton believes they sound "noticeably better" than those on the iPhone X.


The Verge's Dan Seifert said Samsung's new "AR Emoji" feature is "built just to compete with Apple" and "not very good":
There are a couple issues with Samsung's AR Emoji. First, Samsung isn't using any special tech to capture your face or movements, it's just relying on the front or rear camera, so tracking is bad. Second, the characters it creates are on the wrong side of creepy, and everyone I've tested it with has been completely turned off with the results. The animal characters are similarly weird. It's definitely something that Samsung built just to compete with Apple, and it's not very good.
Quartz's Mike Murphy said what irks him most about the iPhone X is that it can only be unlocked with Face ID or a passcode, whereas the Galaxy S9 has a fingerprint scanner, iris scanner, facial recognition, or a passcode.
However, he adds that the Galaxy S9's iris scanner and facial recognition system are both slower than Face ID on the iPhone X.
While it's nice that there are multiple ways to unlock the S9, the iris and face scanners aren't as quick as the iPhone X. The iris scanner requires you to hold the phone pretty much at eye level and takes a few moments to scan, whereas Apple's Face ID technology seems to work almost instantaneously, at a range of angles.
Mashable's Raymond Wong touted the Galaxy S9 camera's variable aperture, but he said low-light photos aren't necessarily better than those shot with an iPhone X or Google Pixel 2. Most reviews agree it is a matter of personal preference.
Yes, the camera is smart enough to identify the amount of light in a scene and switch to the suitable aperture, but the photos don't stomp all over the iPhone X's or Pixel 2's shots, even in low light scenarios.

The iPhone X still takes the prize for color accuracy. The S9 camera still over-saturates and over-processes photos. And the Pixel 2 XL is still the sharpness and low-light champion.
More Reviews
Galaxy S9 and Galaxy S9+ can be pre-ordered on Samsung's website for $720 and $840 respectively. The smartphones launch March 16.