Italian Clothing Company Wins the Right to Use Steve Jobs' Name
An Italian clothing company that uses the name "Steve Jobs" as its brand will be able to continue using the moniker after winning a multi-year legal battle, reports Italian site la Repubblica Napoli (via The Verge).
Brothers Vincenzo and Giacomo Barbato named their clothing brand "Steve Jobs" in 2012 after learning that Apple had not trademarked his name.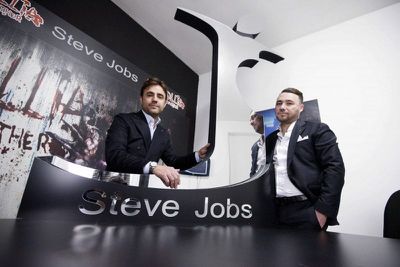 Image via la Repubblica Napoli


"We did our market research and we noticed that Apple, one of the best known companies in the world, never thought about registering its founder's brand, so we decided to do it," the two told la Repubblica Napoli.
The Barbatos designed a logo that resembles Apple's own, choosing the letter "J" with a bite taken out of the side. Apple, of course, sued the two brothers for using Jobs' name and a logo that mimics the Apple logo. In 2014, the European Union's Intellectual Property Office ruled in favor of the Barbatos and rejected Apple's trademark opposition.
While the outcome of the legal battle was decided in 2014, Vincenzo and Giacomo Barbato have been unable to discuss the case until now, as their claim on the brand was not settled until 2017.
The two told la Repubblica Napoli that Apple went after the logo, something that may have been a mistake. The Intellectual Property Office decided that the "J" logo that appears bitten was not infringing on Apple's own designs as a letter is not edible and thus the cutout in the letter cannot be perceived as a bite.

Image via Business Insider Italia


While the Barbatos currently produce bags, t-shirts, jeans, and other clothing and fashion items, they told Business Insider Italia that in the future, they plan to produce electronic devices under the Steve Jobs brand. "We are working on a line of highly innovative electronic devices, projects we have been working on for years," said the two.