Google is facing a collective lawsuit in the United Kingdom over its alleged snooping of iPhone users, according to a new report in the Financial Times. According to the lawsuit, led by a former director of the consumer group Which?, Google illegally gathered the personal data of millions of iPhone users in the U.K. between 2011 and 2012.
Veteran consumer rights campaigner Richard Lloyd alleges the search giant bypassed the default privacy settings on Apple's smartphones which allowed it to track the online behavior of users browsing in Safari. Google then allegedly used the data in its DoubleClick business, which lets advertisers target content based on user browsing habits.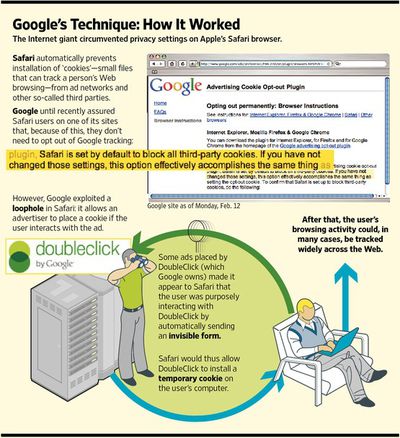 Original explanation of the "Safari Workaround" in 2012 WSJ article
The lawsuit, filed in London's High Court, claims Google's "Safari Workaround" breached the U.K. Data Protection Act by taking personal information without permission.
"In all my years speaking up for consumers, I've rarely seen such a massive abuse of trust where so many people have no way to seek redress on their own," said Mr Lloyd, who has set up a group called Google You Owe Us.

Google said: "This is not new – we have defended similar cases before. We don't believe it has any merit and we will contest it."
The case Google refers to occurred in the U.S. in 2012, after it and several other advertising agencies were discovered to be circumventing privacy protections in Safari for iOS in order to track users through ads on numerous popular websites.
At the time, Safari blocked several types of tracking, but made an exception for websites where a person interacted in some way — by filling out a form, for example. Google added coding to some of its ads that made Safari think that a person was submitting an invisible form to Google, and thus Safari let Google install a cookie on the user's phone.
Google halted the practice once it was reported by the Wall Street Journal, but argued that the tracking was unintentional and did not harm consumers. However, that didn't wash with the U.S. Federal Trade Commission, and the company was forced to pay a record $22.5 million fine over its use of the tactic.
Around 5.4 million people in Britain are said to have owned an iPhone between June 2011 and February 2012, when Google's "Safari Workaround" was active, and could be eligible for compensation, according to the U.K. lawsuit.
Today's news also marks the first time a collective action has been brought in the U.K. against a leading tech company over alleged misuse of data. "Collective action" is where one person represents a group with a shared grievance, similar to a class action lawsuit in the U.S.
Lloyd, who has secured £15.5 million ($20.8 million) in funds from a litigation company, said he expected each claimant would receive several hundred pounds in the event that they win the case. As a ballpark figure, a claim by 5.4 million people for £500 each would result in a £2.7 billion ($3.63 billion) payout for Google.
"We think there is a massive gap in the law in terms of consumer redress around data rights being breached," said Lloyd. He hoped the legal battle would result in a clear set of guidelines and precedent for consumers as to how they could act collectively in similar future cases.