Chuq Von Rospach, a writer and former Apple employee, has penned a blog post in which he opines that customers shouldn't be forced to pay extra for the Touch Bar in order to have the highest-end MacBook Pro currently available.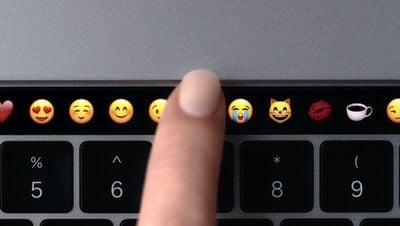 The current [MacBook Pro] line forces users to pay for the Touch Bar on the higher end devices whether they want it or not, and that's a cost users shouldn't need to pay for a niche technology without a future. So Apple needs to either roll the Touch Bar out to the entire line and convince us we want it, or roll it back and offer more laptop options without it.
In other words, Rospach believes Apple should sell a 15-inch MacBook Pro configuration without a Touch Bar, and he isn't the only one with that opinion. A quick check of Twitter reveals dozens of users who believe the Touch Bar is a gimmick.
After purchasing a new 5K iMac and migrating away from his late 2016 MacBook Pro, Rospach said he didn't miss the Touch Bar at all and missed the Touch ID fingerprint sensor only "a little bit," but "a lot less" than he expected to.
Much as I love the Touch ID sensor, what keeps me from missing it much is 1Password. It's marginally more work for me to type in my password to open 1Password than use my fingerprint, but not much. My Apple Watch unlocks the Mac, and so I don't need the Touch ID sensor for that, and when I use Apple Pay on the iMac, the Watch makes that quite painless, too.
Rospach thinks Apple needs to either expand Touch Bar and Touch ID to its entire Mac lineup with a new standalone keyboard, which would be compatible with iMac, Mac Pro, and Mac mini desktops, or expand its notebook lineup to include more models without the Touch Bar going forward.
So what's the future of the Touch Bar? I don't know. I'm not sure Apple does, either. I was fascinated that when Apple released the iMacs earlier this year not one word was mentioned about the Touch Bar or Touch ID and support for them via an updated keyboard or trackpad was nowhere to be found. I'm taking that as an indication that after the lackluster response to this with the laptop releases, they've gone back to the drawing board a bit before rolling it out further.
Beyond old models, the lowest-end 13-inch model is currently the only MacBook Pro with a standard row of function keys. It starts at $1,299.