Apple Stores Getting All-New 'Lead' and 'Schedule Planner' Positions
MacRumors has learned that Apple is introducing two all-new Apple Store positions named Lead and Schedule Planner. Apple today informed existing retail employees that applications open Monday, July 24, although it appears that select stores started interviewing candidates as early as a few weeks ago.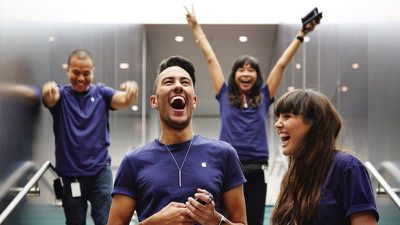 Apple says the Lead position will give team members the chance to learn the ins and outs of running an Apple Store firsthand. The majority of a Lead's time will be spent as the Support Leader on the Floor, responsible for managing employee breaks and zoning in the store, and addressing customer concerns.
Support Leader on the Floor also entails communicating daily objectives, reinforcing store policies, and motivating team members by delivering feedback for career development, according to one employee's LinkedIn profile.
Apple says Leads will also support opening and closing, and perform a number of other administrative responsibilities, suggesting these employees could be key holders, count and balance cash, and be able to perform overrides when necessary. These have typically been duties carried out by the Store Manager.
It appears that Store Managers will continue to perform some of those responsibilities, in addition to HR and store development.
Meanwhile, working closely with Store Leaders, Apple says the majority of a Schedule Planner's time will be spent planning and creating the weekly schedule for the entire store. Schedule Planners will also identify trends and make resourcing recommendations to improve team and customer experiences.