Apple's market share in movie sales and rentals has been halved by competition from the likes of Amazon and Comcast, according to a report published on Sunday.
An article by the Wall Street Journal said Apple's share for selling and renting video content has dropped to between 20 and 35 percent, down from over 50 percent in 2012, according to sources in Hollywood.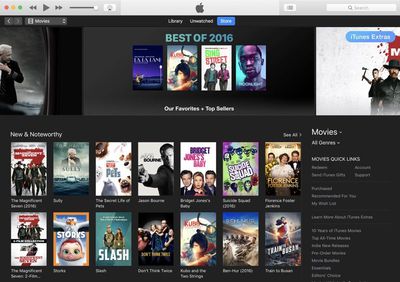 At the same time as the sharp fall in iTunes Movies sales and rentals, Amazon has grown its share to around 20 percent, said studio executives, thanks to both its Amazon Prime subscription service and its standard Amazon Video catalog. Major U.S. cable provider Comcast meanwhile now claims 15 percent share of the market through movie and TV show sales and rentals.
Interestingly, Apple's loss of market share in the digital movie business isn't uniform across genres, according to sources. "Apple has promoted independent films and signed deals for exclusive rights some content produced outside the major studio system, making it a stronger competitor in that space," said WSJ.
Apple responded to requests for comment by explaining that it focuses on providing users with content from subscription services like Netflix and HBO through the App Store. Apple also said its movie rentals and purchases had increased over the last year and had reached their highest level in more than a decade.
WSJ's in-depth report explains that the overall video market is growing, with digital movie rentals and sales said to have risen 12 percent to 15.3 billion last year. However, subscription services like Netflix and Amazon Prime have contributed to a $1.8 billion decline in video-on-demand rental revenue, according to the article. Citing figures from PricewaterhouseCoopers, the report said movie sales had also slowed, reaching 21 percent year-on-year growth last year compared to 29 percent in 2015.