Accessory manufacturer Satechi today launched a new $99.99 Type-C Pro Hub for the 13-inch and 15-inch 2016 MacBook Pros, featuring a total of seven ports to make up for the inclusion of only Thunderbolt 3/USB-C ports on the 2016 MacBook Pro.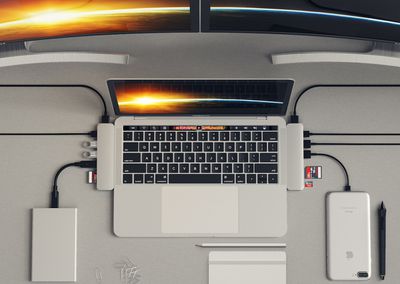 The new hub is similar in design to the Type-C Hub compatible with Apple's original 12-inch Macbook, but includes two Thunderbolt 3 dongles that take up both ports on either side of the new MacBook Pros with Touch Bar. The hub is compatible with the non-Touch Bar MacBook Pro as well.
After users plug the hub in, they can gain access to a passthrough Thunderbolt 3 port, a USB-C port, and the following ports missing from Apple's device: 4K HDMI, 2 USB 3.0 ports, and both SD and microSD card readers.
The Thunderbolt 3 port supports quick data transfer of speeds up to 40Gbps, as well as passthrough charging for both 13-inch (61W) and 15-inch (87W) models of the MacBook Pro. Users can output 1080p video at 60Hz via the HDMI port, and up to 4K video at 30Hz.
Both the USB 3.0 and USB-C ports include transfer speeds of up to 5 GB/s, while the photo and video editing capabilities of the SD card slots provide data transfer speeds of up to 104 MB/s.


Those interested can purchase the Type-C Pro Hub from Satechi's website for $99.99 starting today. Like the company's other products, the hub comes in MacBook color-matching Silver and Space Gray, and has a brushed aluminum finish to complement Apple's aesthetics.