Apple Pay Launches in Ireland for KBC, Ulster Bank and Boon Customers
Apple Pay became available in Ireland this morning, marking the 14th country to accept Apple's payments service.
Visa and MasterCard holders that bank with KBC and Ulster Bank can use Apple Pay in the country, and the service also works with the Boon prepay system. Apple Pay is available to all customers with an iPhone SE, 6, 6s, 6 Plus, 6s Plus, 7, 7 Plus, or an iPhone 5 or later when paired with the Apple Watch.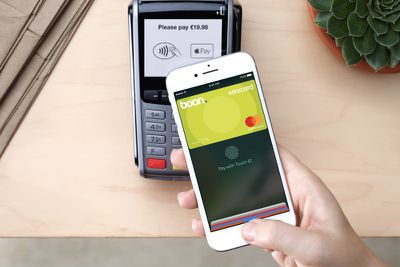 Apple Pay can also be used within apps and on the web with an eligible iPhone, iPad, or MacBook Pro with Touch ID. Apple Pay can be set up using the Wallet app on all supported devices.
Participating retailers in Ireland include Aldi, Amber Oil, Applegreen, Boots, Burger King, Centra, Dunnes Stores, Harvey Norman, Lidl, Marks and Spencers, PostPoint, SuperValu, and more, with a full list of participating retailers available on the Ireland Apple Pay website.
Along with Ireland, Apple Pay is available in U.S., UK, China, Australia, Canada, Switzerland, France, Hong Kong, Russia, Singapore, Japan, New Zealand, and Spain.
Taiwan is next on the list to get Apple Pay, with seven banks in the country having recently obtained permission from the Financial Supervisory Commission to offer the payments service.