Matte Black iPhone 7 Users Complain About Chipped, Peeling Paint
A number of customers who purchased the matte Black iPhone 7 or iPhone 7 Plus have noticed that the anodized finish on their devices has started chipping or peeling off in areas where there has allegedly been little wear, leading to a growing complaint thread on Apple's Support Communities.
Multiple photos in the thread depict chipping in areas near the speaker grille and the volume buttons, even in situations where the iPhone was said to be protected by a case.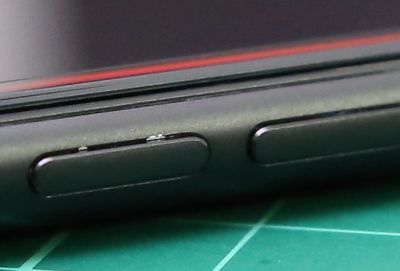 I have the same issue, especially around the speaker grill, the color chipped off where there is clearly no sign of use anywhere around, plus the phone was always in a case from day 1. Chipped off about 20 days after I got it. That is really not a sign of quality here, and I will also certainly not buy a pen to cover this. Apple should recognise the matter and offer a solution here.
At least one user has seen more extensive chipping across the back of the device, a much more serious problem than most of the reports.

My case might be even worse. The paint at the back of the iPhone started to chip off very heavily. First there were some bubbles building up and then when I put the iPhone on a table the paint chipped off completely.

I was at an Apple Store complaining about it but they didn't know how to classify my case so I didn't get a new phone for free. But the Apple Support hotline helped me out and asked me to send pictures of my phone. These pictures now have been sent to the engineers in California and I'm waiting for feedback...
A finish prone to chips and peeling is not unique to the iPhone 7 and 7 Plus, nor to the matte Black color. It's an issue that has affected several versions of the iPhone in the past, including the iPhone 6 and 6s, but there seem to be a higher number of complaints from iPhone 7 users who are affected by the problem.
Parallels can be drawn to complaints that surfaced in 2012 after the release of the Black and Slate iPhone 5, which also drew a lot of criticism from customers due to chipping and scuffing issues. At that time, Apple marketing chief Phil Schiller responded and said some wear was normal. "Any aluminum product may scratch or chip with use, exposing its natural silver color," he said. "That is normal."


Matte Black iPhone 7 owners who have contacted Apple about the chipping issue have been told that because it's cosmetic, their devices are not eligible for repair, which has traditionally been Apple's stance on reports of finish problems.
Cosmetic damage is not covered under warranty, so iPhone 7 owners with chipped devices are unlikely to get replacements. Some affected users from Apple's Support Communities have used sharpies or black paint to cover the damage, while others have sold and replaced their devices with a color less prone to damage.
Apple warned users that its glossy Jet Black iPhone 7, sold alongside the matte Black version, would see "fine micro-abrasions" with use and instructed concerned customers to use a case, but no similar warning was given about other iPhone 7 colors.