Which? Magazine Claims iPhone 7 Has 'Poor Battery Life' Compared to Rival Smartphones
U.K. Consumers' Association magazine Which? has concluded that the iPhone 7 offers the worst battery life when compared against the current crop of rival flagship smartphones.
Using a series of tests designed to account for everyday usage variables, the subscriber-only magazine compared Apple's 4.7-inch phone against the Samsung Galaxy S7, HTC 10, and LG 5, and called the results "staggering".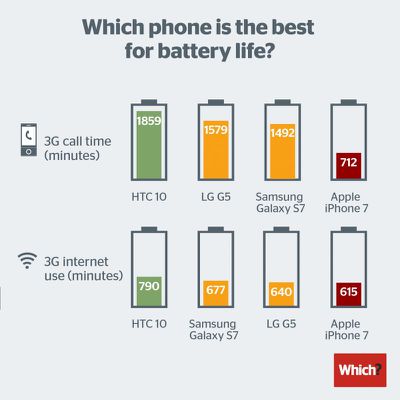 Whilst the iPhone 7's 712 minutes of call time (nearly 12 hours) may sound acceptable, the rival Samsung Galaxy S7 lasted twice as long – and it doesn't even have the longest lasting battery. The HTC 10 lasted an incredible 1,859 minutes (that's almost 31 hours).
Internet browsing time measurements were less contrasting, nevertheless the iPhone 7 still came last.

The 615 minutes of battery life offered by the iPhone 7 is 25 minutes less than its nearest rival, the LG G5, and 175 minutes less than the top performing HTC 10. In fact, the HTC 10's 3G internet browsing time was even longer than the iPhone 7's 3G call time. It doesn't make for pretty reading for Apple.
The new iPhone's poor results in the battery test shouldn't come as a surprise, given the limitations of the 4.7-inch handset's battery cell compared to its larger rivals (5.1-5.3 inches). Measured in milliampere hours, the iPhone 7 has a 1,960mAh battery, compared to the HTC 10's 3,000mAh cell, for instance, yet Which? describes this as a 'fault' of the phone.
The larger iPhone 7 Plus, on the other hand, features a 2,900 mAh battery, but wasn't mentioned in the test, perhaps because it was perceived as belonging in the 5.5-inch handset bracket populated by devices like the Galaxy S7 Edge (3600mAh) and the HTC 10 Desire (2700 mAh).
The test doesn't mention that Apple's own product specifications show that the iPhone 7 has a higher-capacity battery than the iPhone 6s (1,810mAh), and seems to continue a recent negative trend where media reports have criticized Apple's new flagship phone on the basis of its battery life. For example, last month, The Guardian ran an iPhone 7 story titled "How good can a phone be if the battery doesn't last even a day?" and claimed that its holding charge was worse than the iPhone 6s.