Continuing its recent moves to embrace renewable energy sources, Apple has agreed to fund a €1 million initiative through the Sustainable Energy Authority of Ireland (SEAI) to support research into harnessing wave energy.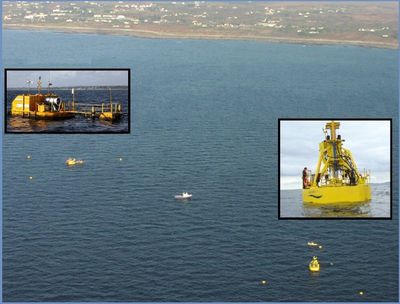 Ocean Energy Test Site in Galway Bay, Ireland
"We're excited by the potential of ocean energy to someday serve as a source of clean power for the data centre we are building in Athenry, County Galway," said Lisa Jackson, Apple's vice president of Environment, Policy and Social Initiatives. "We are deeply committed to powering all our facilities with 100 percent renewable energy and believe investing in innovative projects will make reaching our goal easier."
The initiative funded by Apple will help fund researchers testing their wave harnessing technologies at the Galway Bay Ocean Energy Test Site.
Wave energy is just one renewable energy source Apple has supported in an effort to become more environmentally friendly. Solar energy has been a major component of Apple's initiative, although the company has also embraced wind, biogas fuel cell, hydroelectric, and geothermal solutions to help power its data centers and other facilities as it seeks to move to 100% renewable energy for its own facilities and even help its suppliers make similar transitions.