Revamped Infinite Loop Apple Store in Cupertino Now Open
After being closed since June for a complete overhaul, Apple today re-opened its Infinite Loop Campus Store in Cupertino, California. The store is located on its famous campus, and it is the only Apple Store that sells Apple-branded products like t-shirts, notebooks, and coffee mugs in addition to standard Apple Store fare like MacBooks and iPhones.
Hundreds of people visited the new store today, waiting in long lines to get inside to see the new design. Apple employees were on hand to give out umbrellas to block out the sun and water to beat the 90 degree heat. Customers who waited in line received a free shirt that plays on the Apple Watch and Apple Music, reading just " Shirt."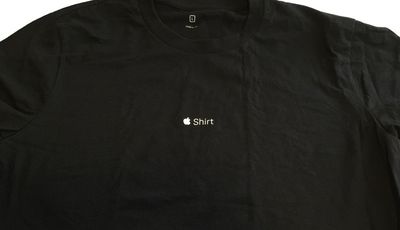 Before it was redesigned, the campus store only sold items like T-shirts and coffee mugs, but after the revamp, it is a full Apple Store that lacks only a Genius Bar for device repairs. The store now sells iPhones, iPads, MacBooks, Apple Watches, Beats headphones, and related accessories like cases and bands, but it does not offer third-party accessories.


All available products are widely spaced out to place focus on each individual item, and as employees at the store opening pointed out, this is the first Apple Store in the U.S. to sport this particular internal design.


While Apple has cut down on the number of Apple-branded swag products that are offered at the store, the company is selling a selection of notebooks, coffee mugs, water bottles, and pens that are designed to match its MacBook lineup in shades of Silver, Space Gray, and Gold.


Apple's Infinite Loop Store will be open to the public from Monday to Friday, and going forward, the store will also be open on Saturdays, something that's new for this particular location.