Apple Watch User Guide Now Available
Apple has published the official Apple Watch User Guide on its website, providing detailed information about the wrist-worn device broken down into categories such as Basics, Watch Faces, Notifications, Glances, Timekeeping, Messages, Digital Touch, Mail, Phone Calls, Calendars and Reminders, Health and Fitness, Apple Pay and Passbook, Maps and Directions, Music, Photos, Accessibility and more.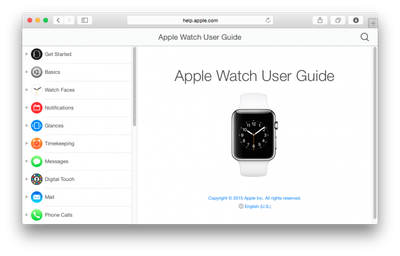 The user guide provides a wealth of information about the Apple Watch in one place for easy access, and should serve as a valuable resource for customers that pre-ordered the Apple Watch for delivery starting April 24. The user guide provides step-by-step information and visuals on a wide variety of topics from setting up your Apple Watch and pairing with an iPhone to using apps and tracking your daily activity.


There are also instructions on how to remove, change and fasten Apple Watch bands for the Classic Buckle, Leather Loop, Link Bracelet, Milanese Loop, Modern Buckle and Sport Band. Apple advises that leather bands be cleaned with a nonabrasive, lint-free cloth that is lightly dampened with fresh water and then air dried, while other bands can be dried using a nonabrasive, lint-free cloth.