Apple Updates Apple Watch 'Guided Tours' Site With Videos on Phone Calls, Siri, Music, and Maps
Earlier this month, Apple launched a new "Guided Tours" section on its dedicated Apple Watch website, showcasing several Apple Watch walkthrough videos designed to teach prospective buyers how various features work on the device. As of today, Apple has updated the site with four new videos, covering Phone Calls, Siri, Maps, and Music.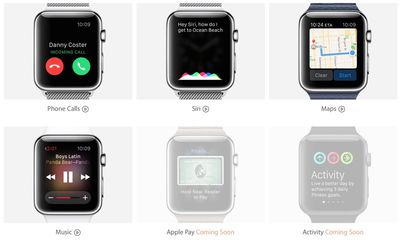 The first video, on Phone Calls, walks users through how phone calls work on the Apple Watch. It displays options for answering incoming calls and making outgoing calls. There are several options when receiving a phone call -- it can be muted by covering the Apple Watch with a hand or a response message can be sent by scrolling up with the digital crown. Making a call can be done through the "Friends" button on the side, or through Siri.
Apple's Siri Apple Watch video covers how to use Siri on the Apple Watch. Siri can be accessed by holding down on the digital crown and the digital assistant can do things like setting alarms, opening apps, getting directions, and more, as on the iPhone. In the "Music" video, Apple walks through available controls in the Music app on the Apple Watch, demonstrating how to control music on the iPhone using the device.
A playlist can be transferred to the Apple Watch by placing the device on its charger, going to the Apple Watch app on the iPhone, and choosing "Sync Playlist." Music can be played from the Apple Watch directly through a paired device by using a force tap within the Music app to select a source and a destination. As
we've previously learned
, Apple Watch has 8GB of storage, with 2GB of that available for storing music.
The Maps video includes instructions on the different ways to open the Maps app on the Apple Watch: by tapping on an address, accessing it from the home screen, or swiping up on the watch screen to get to the Maps Glance. Choosing a location can be done by a hard press on the screen, which opens up options for a contact's address, recent locations, or address input through dictation.
Apple's Guided Tour videos are a useful resource for both prospective buyers and those who have already pre-ordered an Apple Watch, as they highlight both Apple Watch features and the way they're accessed on the device. We've learned from reviews that learning to control the Apple Watch and becoming accustomed to its input methods can take some time, so these videos are a great way to get a heads up on Apple Watch features ahead of launch.
Apple still has three additional videos that have yet to be uploaded to the page, including "Apple Pay," "Activity," and "Fitness." We'll likely see those added to the site next week, ahead of the device's April 24 ship date.
The Apple Watch can be pre-ordered from the Apple online store, with prices that start at $349. Apple Watch demand has been high, so orders placed today will not ship out until June and beyond, depending on model.