Grovemade today announced a new Laptop Stand, adding to its line of handmade wooden desk accessories. Available in Walnut and Maple like the company's other products, the Laptop Stand is made from sheets of wood veneer that have been molded into a curve.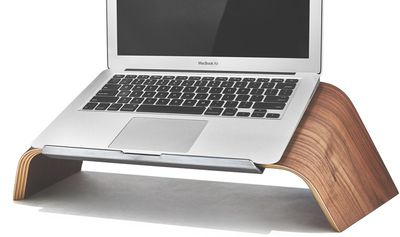 The Laptop Stand is designed to position a laptop at an angle that makes it easy to use on a desktop. There's an aluminum stop at the end to keep the laptop from falling off and it's lined with vegetable tanned leather for extra grip. When placed on a desk, there's room underneath for hiding accessories out of sight.

"Bringing increased function and order to your desktop, the Laptop Stand is the perfect complement to any work or home office, making for a distinctive and comfortable way to help you work, watch, or play," says Ken Tomita, Grovemade's co-founder. "The Laptop Stand's unique design, employing a curvature, molded and shaped from several sheets of wood, lends a welcoming aesthetic boost to your workspace."
Grovemade's new Laptop Stand has been created to match a range of other desk accessories, including a monitor stand, a keyboard case, a mouse pad, a wrist rest, a lamp, and more.


The Laptop Stand is available in Walnut and Maple from the Grovemade site and is priced at $119.