Apple updated its investor relations page today to note that it will announce its earnings for the second fiscal quarter (first calendar quarter) of 2015 on Monday, April 27. The quarterly earnings statement will be released sometime 1:30 PM Pacific/4:30 PM Eastern, with a conference call to discuss the report taking place at 2:00 PM Pacific/5:00 PM Eastern.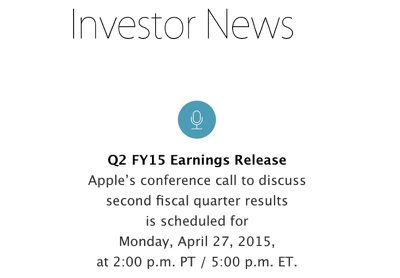 The earnings release will provide a look at sales of the iPhone 6 and 6 Plus during the period following Apple's record-breaking first quarter as well as iPad and Mac sales throughout the first few months of 2015. For the first quarter of 2015, Apple announced revenue of $74.6 billion and net quarterly profit of $18 billion, on 74.5 million iPhone sales, 5.5 million Mac sales, and 21.4 million iPad sales. April's earnings call will come three days after the Apple Watch release, but will not include Apple Watch sales figures.
During its first quarter earnings report, Apple provided Q2 2015 guidance of $52 to $55 billion in revenue and gross margin between 38.5 and 39.5 percent.
MacRumors will provide coverage of both the earnings release and conference call on April 27.