Apple's Quarterly Spending Points to Major Product Launches, Significant Revenue Growth
Looking at Apple's quarterly SEC quarterly filing, Katy Huberty of Morgan Stanley believes Apple's revenue is poised to explode in the coming quarters. Huberty based her prediction on increases in Apple's off-balance sheet commitments, which have a historical correlation with revenue growth.
Off-balance sheet commitments are those investments in components and services that are involved in the mass production and launch of new devices. These line items include component purchases, manufacturing process equipment investments, advertising, and other services. Huberty notes that Apple's total spending in these areas has climbed 46 percent yearly and 36 percent quarterly in fiscal Q3 2014, making last quarter's jump the largest spending increase since Apple first launched the iPhone in 2007.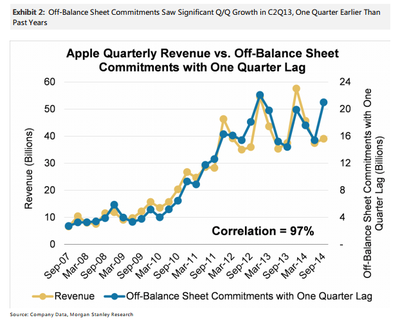 Huberty, not surprisingly, attributes this spending increase to Apple's iPhone 6 and iWatch wearable, both of which are expected to launch later this year. These new products, along with services such as mobile payments, could accelerate growth and boost margins.
Apple has the opportunity to take share in slower growth smartphone and tablet markets with larger screens and new services. New product categories like iWatch, and services like payments could further boost growth.
Apple is rumored to be launching its next-generation iPhone 6, refreshed iPad models and a new iWatch smartwatch later this year. The company may also update its Mac hardware to coincide with the debut of OS X Yosemite.