Video site Vimeo today announced a revamp of its Apple TV channel, simplifying the interface, launching a new "Staff Favorites" monthly feature, and making several other enhancements. The updates focus on improving video discovery and reducing the number of clicks it takes to access videos.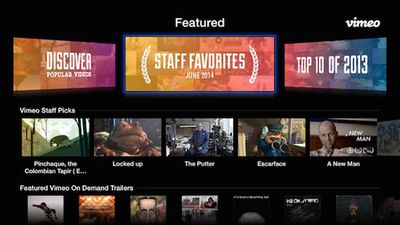 Simplified navigation

We took our old menu, cut it down to the essentials, and put it at the top of the screen for easy access. Discover awesome videos, keep up with your feed, tackle your Watch Later queue, and quickly get to your own videos, likes, and collections.

Watch our favorites

Don't have time to watch every single Staff Pick? Our monthly Staff Favorites Albums highlight the best of the best. We've also added the winners of our Vimeo Weekend Challenges and a bunch of curated Channels so you can watch tons of amazing videos right away.
Vimeo is also featuring its growing On Demand trailer library, which integrates with the service's Watch Later queue to make it easy to access content across devices. Enhanced Video Detail pages also include background images and additional metadata such as audience ratings and reviews.


Content providers are increasingly embracing Apple TV as a platform for distributing their content, with roughly 40 channels now available, although many of the services are currently limited to the United States or just a handful of other countries. Vimeo, however, is available worldwide for Apple TV users.