Western Digital today announced the new My Passport Pro, the company's first thunderbolt-powered, dual-drive storage solution. With user-selectable RAID functionality, the drive is suitable for graphics professionals looking for high performance or consumers who need reliable mirroring.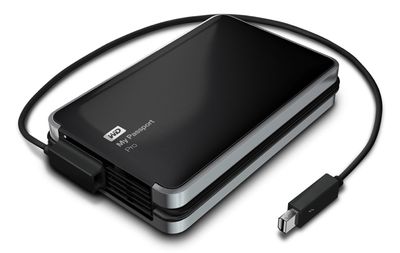 The aluminum enclosure accommodates two 2.5-inch drives, providing a total of 2 TB or 4 TB of storage space. Because it connects via Thunderbolt, the drive is powered by the bus itself and requires no extra cables and no external power source. It also delivers transfer speeds of up to 233 MB/s.
Superior to both FireWire 800 and USB 3.0, the integrated Thunderbolt technology of My Passport Pro makes video manipulation quick and easy—with the ability to copy a 22 GB high-definition video file in half the time typically required by a USB 3.0 drive working in RAID 0 format.
The My Passport Pro is available now at other major electronics retailers, including Apple, and online from Western Digital. The 2 TB My Passport Pro costs $299.99, while the 4 TB model is priced at $429.99.