Major League Baseball Triples Passbook Acceptance as Samsung Launches Look-alike Wallet App
GigaOM reports that Major League Baseball is expanding support for Apple's Passbook app, announcing that the digital tickets will be accepted at 13 stadiums this season, up from just four last season.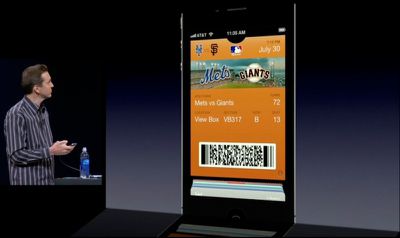 MLB was one of Apple's launch partners for Passbook in September, with mobile tickets accepted by the New York Mets, San Francisco Giants and Kansas City Royals. They are being joined this season by the Minnesota Twins, Baltimore Orioles, Milwaukee Brewers, Oakland A's, Pittsburgh Pirates, Detroit Tigers and Chicago Cubs. Three further teams are due to join, but have not yet been named.
Tickets can be purchased using the free AtBat app and then stored in Passbook.


Not to be outdone, Samsung today announced Samsung Wallet, an Android app which mirrors Passbook's functionality, right down to time- and location-based push notifications. The app is currently a developer-only beta, with the public version launching soon. The Verge reports that Samsung has also signed a deal with MLB, as well as Walgreens, Belly, Expedia, Booking.com, Hotels.com and Lufthansa for the app's launch.
The company showed off a few features of the new app during its developer keynote, and it's quite clear that Samsung took its design inspiration for Wallet from Apple's Passbook (even down to the icon that Samsung used).
Interestingly, the app will not support near field communications (NFC) payment technology for the time being, despite Samsung's existing partnership with Visa's PayWave service. Samsung says that retailers have so far been reluctant to invest in the additional infrastructure to support NFC payments, making NFC support for Wallet a lower-priority feature.