Amazon Launches 'AutoRip', Offering Free Digital Versions of Purchased CDs
Seeking to enhance its profile among music buyers, Amazon today announced the launch of AutoRip, a new service that offers customers who purchase physical CDs through Amazon free digital copies of their purchases through Amazon Cloud Player. The service is also retroactive, meaning that customers who bought any of the thousands of eligible CDs through Amazon since 1998 will automatically find digital versions of their past purchases in Cloud Player.
When customers purchase AutoRip CDs, the MP3 versions are automatically added to their Cloud Player libraries, where they are available, free of charge, for immediate playback or download – no more waiting for the CD to arrive. Additionally, customers who have purchased AutoRip CDs at any time since Amazon first opened its Music Store in 1998 will find MP3 versions of those albums in their Cloud Player libraries – also automatically and for free. More than 50,000 albums, including titles from every major record label, are available for AutoRip, and more titles are added all the time – customers can just look for the AutoRip logo.
AutoRip tracks are encoded as 256 Kbps MP3 files and are playable on a wide variety of devices including the iPhone and iPod touch, and can also be accessed through any web browser. AutoRip tracks do not count toward users' storage limits for the Cloud Player service.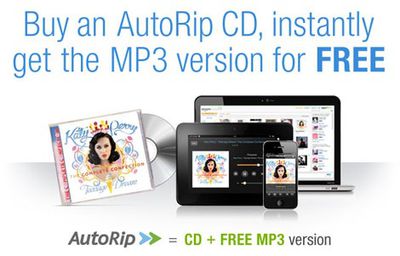 Amazon has been working for years to eat into Apple's dominant share of the digital music market, offering discounted prices and matching or exceeding Apple's features such as iTunes Match with its own offerings. With the new AutoRip service, Amazon clearly hopes to attract many longtime customers who have purchased physical CDs from the company by offering free digital versions to introduce them to Cloud Player.